BENCH MOUNTED WATER SURFACE SENSOR
This device has been designed to be installed in a gauging station to provide a quick, reliable and accurate means of checking the settings of water level recording equipment.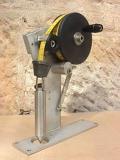 Most fixed units currently in use have the electronics and indicator encapsulated in the part that is lowered down the well. While this may be necessary for portable equipment, this unit is designed for permanent installation and has the electronics and indicators (LED and sound) at the surface.
The LED is incorporated into the acrylic cursor so that it is visible when reading the tape. This device has been designed to complement the portable unit that has been popular for more than 40 years, to meet the current demand for a quality instrument for bench mounting
Features:
Uses high quality steel measuring tape mounted on specially made spool with cam brake.
Indicators and electronics are incorporated at bench level. No need to look down the well.
Sensitivity better than 1mm, allowing direct reading to the accuracy of the tape.
Robust stainless steel and nylon construction. Encapsulated electronics.
Standard 9v battery, quiescent drain negligible , operating current 15mA.
An LED indicator is incorporated in a magnifying cursor. Simultaneous bleeper provides alternative signal for high ambient light levels.